06.11.2019
Dr. Ignacio Colomer has been awarded with a Junior Leader Fellowship -Incoming- from La Caixa Banking Foundation (LCBF) to perform postdoctoral research at IMDEA Nanociencia.
Colomer received his fellowship during the award ceremony on 16th September 2019 together with 78 other researchers. Isidre Fainé, president of LCBF, Jaume Giró, CEO of LCBF, Javier Solana, member of LCBF Board of Trustees and Pedro Duque, current Spanish Minister of Science, Innovation and Universities, awarded grants worth €28 M to national and international research projects of excellence.
The research projects respond to three lines of action promoted by LCBF: postdoctoral grants, support for projects of excellence in biomedicine and health and Caixaimpulse.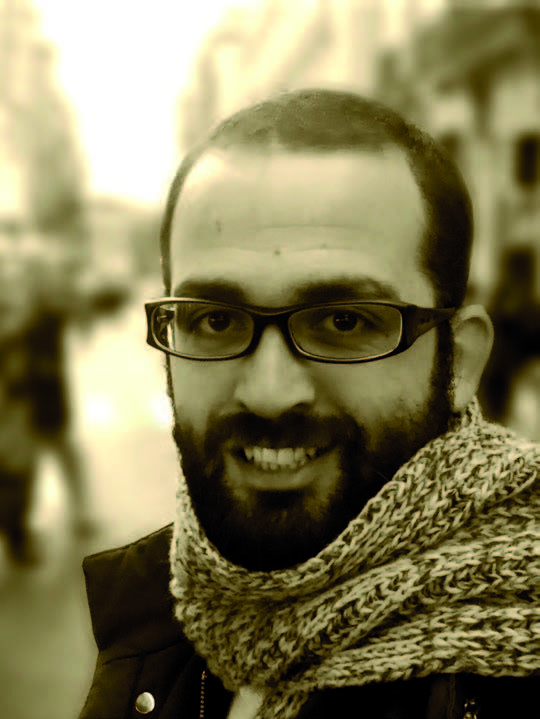 Dr. Colomer's project entitled "Non-equilibrium organic chemistry" has been awarded with a grant to perform a 36 month postdoctoral research project of at IMDEA Nanociencia, in the fields of organic and supramolecular chemistry. While most synthetic chemical systems work in an energetic downhill process, towards the formation of thermodynamically stable structures, life and other living-containing structures such as cells and microtubules are in a dynamic far-from-equilibrium situation, displaying a rich behaviour. Far-from-equilibrium systems require a continuous supply of energy to persist, otherwise the system moves towards the thermodynamic equilibrium. In this project, Dr. Colomer will address the challenge of designing and operating synthetic (non-natural) systems that exist in a far-from equilibrium regime. The challenge will have to be faced from a multidisciplinary perspective and will produce understanding on how to structurally design and control new emergent functionalities, necessary to assemble advanced functional materials. The long-term goal of the project is to build the first synthetic protocell based on chemical reactivity principles.
Ignacio Colomer has joined IMDEA Nanociencia after his post-doctoral stays at the University of Oxford (UK), where he spent 4 years, before returning back to Spain as a Juan de la Cierva Fellow at Universidad Autonoma de Madrid. He is enthusiastic about this new opportunity in his career to face complex and challenging problems using chemical tools. In the future, Colomer aims to contribute at solving important questions, such as What is the origin of life?
"La Caixa" Junior Leader Fellowship
The postdoctoral Junior Leader Fellowships are aimed at hiring excellent researchers of any nationality who wish to continue their research career in Spain or Portugal. The objectives of this programme are to foster high-quality, innovative research in Spain and Portugal and to support the scientific talent by providing them with an attractive, competitive environment in which to conduct excellent research.
Scientists are examined under a hard selection criteria in two stages, to select the most outstanding researchers in terms of originality and importance of their contributions, as well as having the leadership skills to head their own research group.
LCBF Fellowship Framework Programme has awarded 4,771 fellowships since 1982. "Junior Leader" is an existing LCBF fellowship programme addressed to excellent experienced researchers of all nationalities willing to join one of the outstanding research centres in Spain or Portugal in the STEM areas (Science, Technology, Engineering and Mathematics). "Junior Leader" aims to train a new generation of researchers to become independent leaders, oriented towards both academia and industry that will help to develop the European knowledge economy. The programme has been partially funded by the European Commission through MSCA-COFUND-2018 scheme of the Horizon 2020 programme.
Within this framework, the Postdoctoral Junior Leader Fellowships Programme will contribute towards internationalising the research system by attracting international talent through the "Incoming" subprogramme. Likewise, it will retain talent through the "Retaining" subprogramme.
In this call, 33 postdoctoral fellowships have been awarded, either within the "Incoming" (22) or "Retaining" (11) subprogramme. The "Incoming" grants are awarded to outstanding scientists to perform their postdoctoral research at Excellent Research Centres awarded with the Severo Ochoa or María de Maeztu distinction in Spain, or centres evaluated as excellent by the Fundação para a Ciência e Tecnologia of Portugal. The "Retaining" grants are awarded to scientists fo carry out research at any research centre in Spain or Portugal, with a complementary training of 3-6 months in an international institution. The research programmes carried out at these centres are first rate, highly competitive and considered among the best in the world in their respective scientific areas.
IMDEA Nanociencia acts as host organisation within the framework of the Postdoctoral Junior Leader as Severo Ochoa Centre of Excellence. The centre has characteristics which are essential for the development and consolidation of a research career. LCBF strengthens the institutions' commitment to research and society by attracting international talent and helping to retain researchers in the territory, supporting world-class researchers conducting frontier research and promoting the transfer of results to society.
---
More information:
https://obrasociallacaixa.org/en/investigacion-y-becas/becas-de-la-caixa/posdoctorado-junior-leader/descripcion-del-programa
---
Source: IMDEA Nanociencia