Wednesday, 20 January 2021 11:00
Programme:

Morning Session
11:00
Laura Lechuga: Advanced Nanobiosensor Platforms for COVID-19 fast diagnostics at the Point-of-need: CoNVat Project
12:00
Pablo Castan: Sandboxing innovations and recent advances and perspectives of nucleic acid detection for coronavirus.

Afternoon Session
16:00
Arben Merkoçi: Advances in low cost and efficient electro/optical nanobiosensors connected via a smartphone for COVID19 biomarkers detection
17:00
Melanie Ott: Amplification-free detection of SARS-CoV-2 with CRISPR-Cas13a and mobile phone microscopy

Time: 20th January, 2021 at 11:00 Madrid time (GMT +1)
Abstracts:
Prof. Laura Lechuga (Institut Català de Nanociència i Nanotecnologia - ICN2)
Prof. Laura Lechuga (Institut Català de Nanociència i Nanotecnologia - ICN2)
Title: Advanced Nanobiosensor Platforms for COVID-19 fast diagnostics at the Point-of-need: CoNVat Project

Abstract:
COVID-19 pandemics has evidenced the urgent need of having portable diagnostic tools that enable rapid testing and screening of the population with sensitivity and specificity levels comparable to laboratory techniques. Biosensor technology is one of the best prepared to tackle the challenging goal of offering fast and user-friendly diagnostics tests than can be employed at the point-of-need. In particular, photonic biosensors can provide sensitive, reliable and selective analysis, while reducing test and therapeutic turnaround times, decreasing and/or eliminating sample transport, and using low sample volume. And, more importantly, biosensor technology can provide quantification of the viral load.
Our group have demonstrated cutting-edge nanophotonic biosensor point-of-care (PoC) devices (as the Bimodal Waveguide Interferometer) that enables ultrasensitive analysis of body fluids in few minutes and in decentralized settings. We have demonstrated sensitivities at the fM-aM level for clinical biomarkers diagnostics, as for example the direct specific miRNA detection in urine and the whole pathogen detection directly in human samples. During the pandemic, we have been working in CoNVat, one of the first diagnostics projects funded by the H2020 EU program to fight against COVID-19. Main objective is to provide a unique biosensor technology for efficient screening and diagnosis of the SARS-CoV-2 coronavirus, without requiring complex equipment and for both human and animal reservoirs samples. Our results indicate that our biosensor technology is able to provide a rapid immunoassay detection (less than 20 minutes) of whole units of SARS-CoV-2 at very low concentrations without the need of PCR or other time-consuming treatments. In addition, we have developed a quantitative serological biosensor.
Biography:
Prof. Laura M. Lechuga received her PhD in Chemistry from the University Complutense of Madrid (Spain) in 1992. She is Full Professor of the Spanish National Research Council (CSIC) and Head of the Nanobiosensors and Bioanalytical Applications Group at the Catalan Institute of Nanoscience and Nanotechnology (ICN2) in Barcelona (Spain) and at the Networking Biomedical Research Center (CIBER-BBN). She has been Adjunct Professor at The Artic University of Norway (2012-2016) and Distinguished Visiting professor at University of Campinas (Brazil) (2013-2017).
The principal focus of her research is the development of novel nanobiosensor devices based on nanoplasmonics and silicon-based photonics principles, including surface biofunctionalization, microfluidics for automatic fluid delivery and complete lab-on-a-chip integration for point-of-care devices. The use of nanobiosensor devices for a wide range of challenging clinical and environmental applications is one of her main objectives.
She has published over 260 articles, book chapters and proceedings, has 8 families of patents, and has presented her work worldwide in more than 350 invited talks. She has co-founded two spin-offs companies. She is Associate Editor of Analyst (RSC) and has been Associate Editor in other two Physics and Engineering Journals. She is a member of the Scientific Advisory Board of several high-level research Centres around the world and has taken part in numerous international evaluation panels. She has participated in many EU funded projects (some of them as Coordinator) and has been part of various EU Evaluation Panels in the 6th, 7th and H2020 Framework Programmes (including Adv. ERC panels).
She has received several prizes and recognitions along her career, such as the Prize of Physics, Innovation and Technology from the Spanish Royal Society of Physics and BBVA Foundation in 2016 and the Fellow of the Optical Society (OSA) award in 2014.
Dr. Pablo Castán (MiRNAX Biosense SL)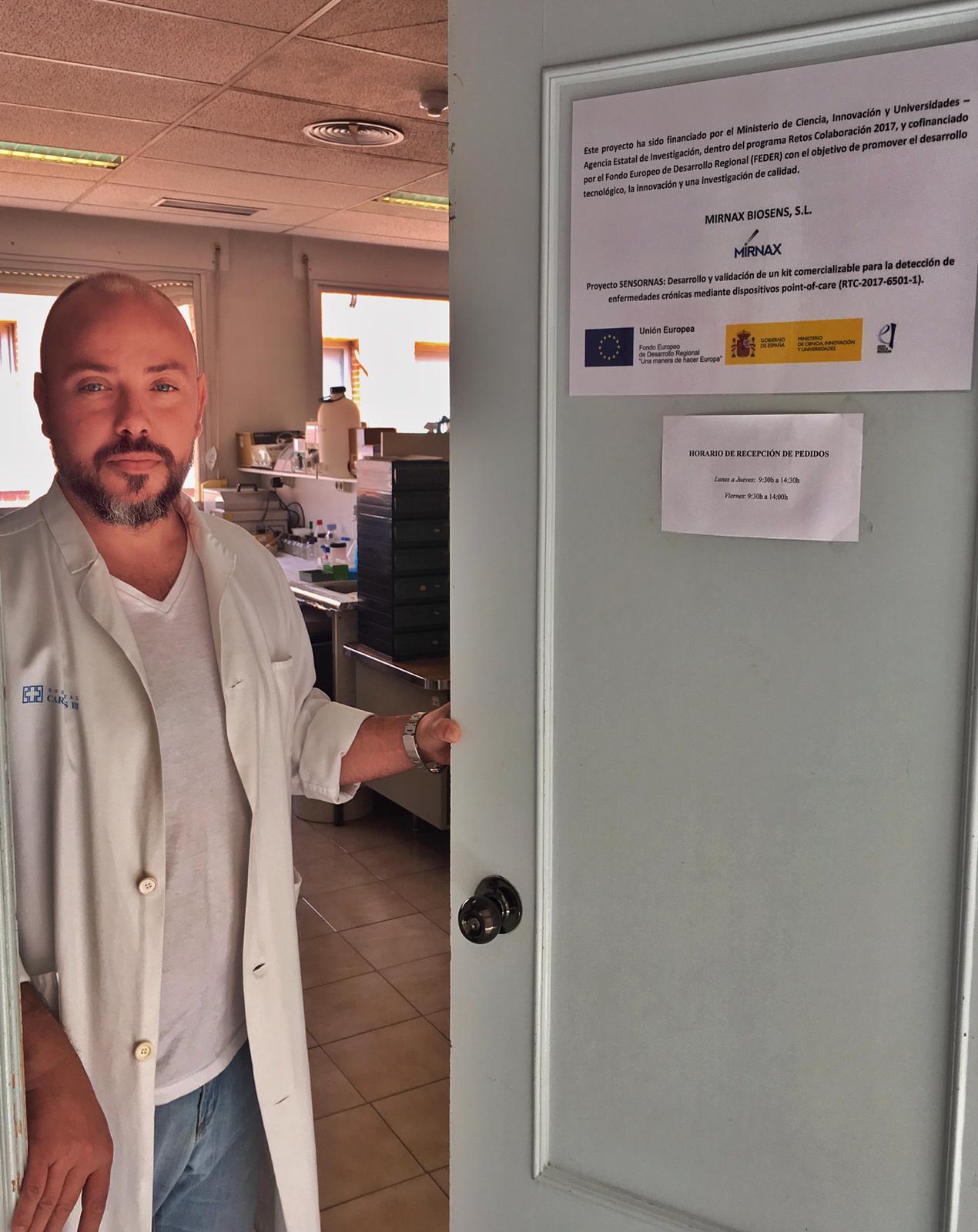 Dr. Pablo Castán (MiRNAX Biosense SL)
Title: Sandboxing innovations and recent advances and perspectives of nucleic acid detection for coronavirus
Abstract:
Citizens of Madrid are updated daily on the multi-faceted devastation caused by SARS-CoV-2 and on the PCR results of COVID-19 testing from across Spain. The PCR method is used globally to test for the presence of the SARS-CoV-2 virus that causes COVID-19, still following the guidelines set when it was developed at Cetus by in-house scientist Kary Mullis, who was awarded the Nobel Prize in chemistry in 1993.
Few people may be aware that a new generation of tests using PCR-derivatives is being scrutinised by the notified Bodies, aiming to extend the application of PCR beyond detection and into the epidemiologic analysis of new viral strains. One of such tests is based on a method innovated by MiRNAX Biosens, the first-ever biotech company within the CANAANRD group.
This lecture describes and compares the method within the context of currently available detection systems for coronavirus nucleic acid. It is expected that this will assist researchers and clinicians in better evaluation of novel techniques for timely and effective detection of coronavirus infection.
Prof. Arben Merkoçi (Institut Català de Nanociència i Nanotecnologia - ICN2)
Prof. Arben Merkoçi (Institut Català de Nanociència i Nanotecnologia - ICN2)
Title: Advances in low cost and efficient electro/optical nanobiosensors connected via a smartphone for COVID19 biomarkers detection
Abstract:
Scientific community has been facing several challenges by COVID19 pandemics. Fighting the disease includes many efforts in the area of disease diagnostics, therapies to new vaccines development beside others. Between the different medical challenges, diagnostics is the key step that ensures the right treatment and all the necessary measurements requested to be taken for people suffering the disease. In addition to conventional laboratories and their sophisticated instruments, the demand for cost/efficient devices and tests to be used as point-of-care in the diagnostic and further monitoring of the disease of infected people is increased. The need for the detection of the virus in contaminated waters or as airborne are other diagnostic scenarios quite important for a general control of the disease spread and related measurements to be accordingly taken. The demand for devices to effort such unprecedented pandemics has been increasing by further spreading of the disease in sequential waves. Although massive vaccination has started all over the world, the need for such devices is still in place to ensure virus-free and safe environment for everyone or take the necessary prevention methods. In addition, what we are learning from this pandemics should serve as an important lesson for the future so as to handle other possible disease in a much faster and efficient way. In this context the development of biosensors and overall cost efficient ones is the key to afford such global diagnostic needs. Between the various kinds of biosensors low cost and efficient electro/optical nanobiosensors connected via a smartphone for COVID19 biomarkers detection are showing to be an important diagnostic solution. I will show recent results we are getting in my group at ICN2 in the development of optical (lateral flow platforms) and electrical (impedance spectroscopy or field effect transistors-based transducers) using nanomaterials such as gold, silver nanoparticles or graphene either as labels (plasmonic properties) or as sensing platforms (improvement of signal to noise ratio etc.). The device production technologies include fast fabrication (i.e. ink-jet printing and lateral flow technologies), coupling further modification with various receptors ranging from antibodies to aptamers and device operation via a smartphone. The developed devices are aimed to fulfil the "World Health Organization" requisites to be ASSURED: affordable, sensitive, specific, user-friendly, rapid and robust, equipment free and deliverable to end-users. Results obtained from the design, characterisation and application of the mentioned device will be shown and further plans and needs for their clinical testing also will be discussed.
Acknowledgment: CSIC support for COVID19 project, Severo Ochoa program supporting ICN2, European Union's Horizon 2020 research and innovation programme under Grant Agreement No. 881603 (Graphene Flagship Core 3) and MICROB-PREDICT (Grant agreement No 825694) are acknowledged.
Biography:
Arben Merkoçi is currently ICREA Professor and director of the Nanobioelectronics & Biosensors Group at Institut Català de Nanociencia i Nanotecnologia (ICN2), part of Barcelona Institute of Science and Technology (BIST). After his PhD (1991) at Tirana University (Albania), in the topic of Ion-Selective-Electrodes (ISEs) Dr. Merkoçi worked as postdoc and senior researcher/invited professor in the field of nanobiosensors and lab-on-a-chip technologies in Italy, Spain, USA and since 2006 at ICN2. Prof. Merkoçi research is focused on the design and application of cutting edge nanotechnology and nanoscience based cost/efficient biosensors. The paper/plastic-based nanobiosensors involve integration of biological molecules (DNA, antibodies, cells and enzymes) and other (bio)receptors with micro- and nanostructures/motors and applied in diagnostics, environmental monitoring or safety and security. He has published around 310 peer review research papers (H index: 67 WOS; 82 GS), supervised 30 PhD students and has been invited to give plenary lectures and keynote speeches in around 200 occasions in various countries. Prof. Merkoçi is Co-Editor In Chief of Biosensors and Bioelectronics and member of Editorial Board of other journals. He is co-founder of two spin-off companies, PaperDrop dedicated to nanodiagnostics and GraphenicaLab to electronic printing. See more details on his group and CV at: https://icn2.cat/en/nanobioelectronics-and-biosensors-group https://www.icrea.cat/security/files/researchers/files-maintenance/full_cv_amerkoci_0.pdf
Prof. Melanie Ott (University of California San Francisco - UCSF)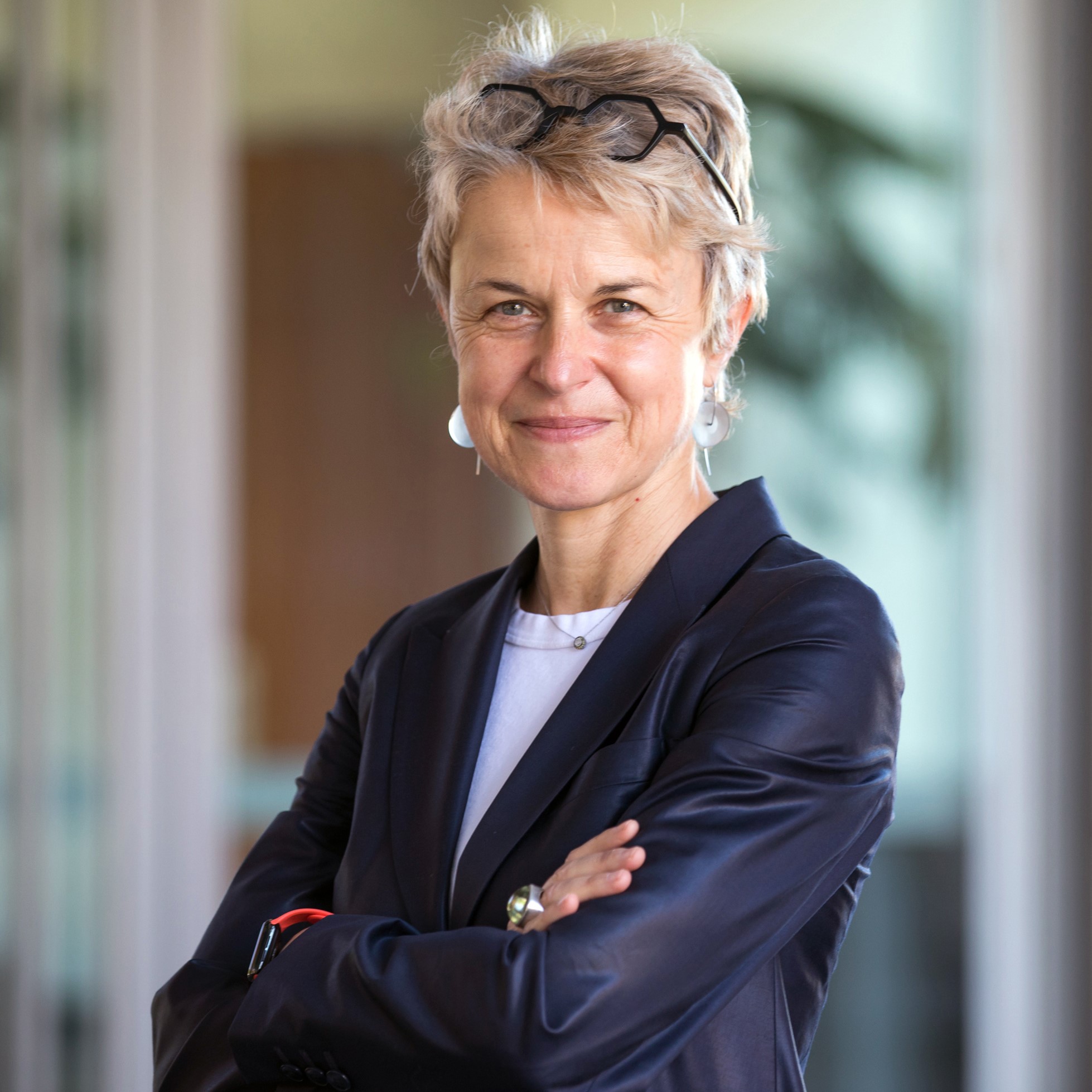 Prof. Melanie Ott (University of California San Francisco - UCSF)
Title: Amplification-free detection of SARS-CoV-2 with CRISPR-Cas13a and mobile phone microscopy
Abstract:
Until a safe, reliable vaccine has been broadly administered around the globe, the key to safely opening up in the age of COVID-19 — and any pandemic — will be widely available, frequent, and inexpensive testing for the disease. How can we get there? More and different types of diagnostics
Biography:
Melanie Ott, M.D., Ph.D. is the director of the Gladstone Institute of Virology and a professor of medicine at the University of California San Francisco. She studied under Nobel laureate Harald zur Hausen in Heidelberg/Germany and has been recognized for her contributions to HIV Cure research and the pathogenesis of hepatitis C and Zika virus infections. Since January 2020, she has pivoted part of her efforts to SARS-CoV-2 research. This work is focused on infectious SARS-CoV-2 and harnessing the host response for new therapeutics. Her lab also develops new rapid diagnostics based on CRISPR and mobile phone technologies. Melanie is currently advising Gladstone and the University of California San Francisco on their COVID responses and was recently named one of the most influential women in the Bay Area by the SF Business Times. She is an elected member of the Association of American Physicians (AAP) and a fellow of the American Academy of Microbiology (AAM).