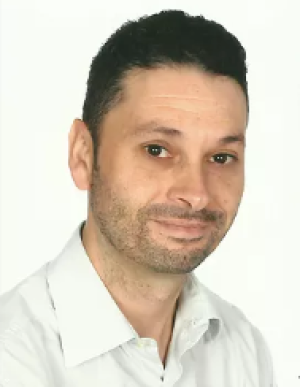 Juan Cabanillas – Gonzalez graduated in Physics at Universidade de Santiago de Compostela in 1999. He got a PhD in Physics from Imperial College London working with photophysics of conjugated polymers with Prof. Donal Bradley. In 2003 he started a post-doctoral stage at Politecnico di Milano with Prof. Guglielmo Lanzani. In 2009 he was appointed Ramon y Cajal fellow at IMDEA Nanociencia (Madrid). Since then he leads his own group at IMDEA Nanociencia.
Phone: +34 912998784,
This email address is being protected from spambots. You need JavaScript enabled to view it.,
https://juancabanillas.wixsite.com/research
BSc in Physics: Universidad de La Habana, 2009.
MSc in Nanoscience: Universidad de Barcelona, 2010.
PhD in Physics: Universidad de Sevilla, 2015.
Research Topic: Design, fabrication and characterization of photonic nanostructures and the development of conjugated polymer nanoresonators for applications as fluorescent. ultrasensitive chemical sensors.
Phone: +34 912998788
Position: Postdoctoral Researcher
This email address is being protected from spambots. You need JavaScript enabled to view it.
This email address is being protected from spambots. You need JavaScript enabled to view it.
BSc in Chemical Engineering, Qingdao University, 2009.
MSc in Chemistry, Shanghai Jiao Tong University, 2012.
Research Topic: Photophysics and morphology studies of conjugated polymer blends with enhanced emission and optical gain properties and their application to photonic cavities and OLEDs.
Phone:+34 912998765
Position: PhD Student
This email address is being protected from spambots. You need JavaScript enabled to view it.
BSc in Applied Chemistry, Nanjing University, 2012
MSc in Organic Electronics, Nanjing University of Posts and Telecommunications, 2015
Research line: Excited state dynamics and emission properties of self-threaded conjugated polymers and bulky side-chain polyfluorenes monitored with femtosecond transient absorption spectroscopy and time-resolved photoluminescence.
Phone: +34 912995768
This email address is being protected from spambots. You need JavaScript enabled to view it.
BSc in Applied Chemistry, Islamic Azad University, 2010.
MSc in Inorganic Chemistry, University of Zanjan, 2014.
Research Topic: Photophyics of fluorescent Metal Organic Frameworks.
Phone: +34 912998765
This email address is being protected from spambots. You need JavaScript enabled to view it.